UCT Vision 2030 Grand Challenges Programmes and Pilot Projects
About the UCT Vision 2030 Grand Challenges Programme
UCT's 2030 Vision for Research strives to unleash knowledge in, for and from Afrika to redefine and co-create a sustainable global future. The implementation plan for this vision recognises the need for enhanced research support systems, facilitating approaches to inter- and transdisciplinary research and to engaged scholarship, development of the next generation of transformed and diverse research leaders, the nurturing of strong postgraduate programmes and the facilitating of impactful research programmes, particularly those focused on grand challenges core to Africa.

The 2030 Research Catalytic Programme, developed to deliver on this implementation under the custodianship and leadership of the DVC responsible for Research & Internationalisation, Prof Sue Harrison, will comprise of various initiatives.

The first of these is the UCT Vision 2030 Grand Challenges Programme, which seeks to provide impetus to further advance on UCT's research and innovation capabilities for addressing Africa's Grand Challenges. Through this initiative we aim to build and leverage on our unique and emerging strengths in a way that will enable and enhance UCT's capacity to contribute meaningfully to generating new knowledge relevant to, and for the benefit of, the City of Cape Town and its surrounding areas, South Africa and our continent while, importantly, also contributing positively to the global knowledge base from our Global South perspective. Through the Initiative we also seek to build the next generation of transformed and diverse research leaders to maintain sustained research excellence at UCT.

Proposals are thus invited for two research calls within the UCT Vision 2030 Grand Challenges Programme, building towards UCT's Research 2030 Vision:
The Vision 2030 grand challenges programmes
The Vision 2030 grand challenges pilot projects.
These calls, centred within UCT's strategic priority research areas and built on an inter- and transdisciplinary research approach, are detailed in the call for proposals – which you can access here.

All researchers interested in submitting a proposal should submit an intention to submit by 31 July and more detailed guidance including permissible budget categories and proposal template will be provided.

All proposals must be submitted to the International Grants Hub by the Principal Investigator by the 16 September 2022.

Proposals will be reviewed by a panel comprising of UCT senior leadership staff, academic representatives and at least one external member.

PIs of the shortlisted proposals will be invited to present their proposals to the review panel.
After completing the intention-to-submit form, you can access the call documents for the respective funding programmes below.
Call documents
Programme call documents
Pilot call documents
Call FAQs
Please note that a completed intention-to-submit form is required for all applicants. The deadline to complete your intention to submit is 31 July 2022. 
1. What is the maximum length of Programme grants and Pilot Project grants?

Programme grants are funded for three years, with potential for renewal for a further two cycles of three years (should funding be made available for this).
Pilot projects are one year, with potential to renew for a second year based on project progress and a written motivation outlining the need and the availability of funding.

2. Is it mandatory to use the Theory of Change (ToC) template provided with the application formtemplate?

You need to provide a Theory of Change as part of the application but you are not obliged to use the template provided. It is a template that can be used as a tool for designing any project and is not specific to this one. However, if you address all the main headings in the provided ToC template you can be better assured that you have answered the main questions the evaluation committee are looking for.

3. Is it mandatory to use the biosketch template?

The template is a guide only – as long as your biosketch is no more than 3 pages you can use a different format. However, if you use the template you can be better assured that you have provided the information that the evaluation committee are looking for.

4. Can the funds be used to pay UCT staff salaries?

Funds cannot be used for academic or PASS staff who are on permanent conditions of service and paid through UCT's General Operating Budget (GOB). They can, however, be used towards non-GOB appointments that are processed through HR, including soft-funded academic research staff and PASS staff. Except in cases of full-time appointment on this project, payment must be pro rata for the time spent on the project by the staff member (time sheets should be kept). The salary amount must be in accordance with UCT's salary ranges for the level of position. Staff contracted specifically for this project must not be appointed in a manner which leads to ongoing expectations of employment on this project following its closure after a maximum of 3 years (Programme grants) or 1-2 years (Pilot Project grants).

Note that for Pilot Projects, salaries cannot exceed 50% of the project budget.

Contractual, consultancy agreements where payment is made through the Finance Department to a registered UCT vendor in return for a set of prior-agreed deliverables, would be considered, only where essential and upon motivation. Fees for a Monitoring & Evaluation consultant will also be considered upon motivation.

5. Can the funds be used for postdoctoral fellowships?

Programme grants: Postdoctoral fellowships may be awarded at the URC postdoc rate of R300 000 pa
Pilot Project grants: Postdoctoral fellowships may be awarded at the URC postdoc rate of R300 000 for a single year with the option to renew if funding is extended to a second year.

Should you wish to top fellowships up to a higher level, please motivate why this is necessary. The maximum allowed top-up is to R460 000 pa.

6. Can the funds be used for postgrad student bursaries?

Programme grants

You may use the funds for honours, master's, and PhD scholarships for a maximum of one year (honours), two years (master's), and 3 years (PhD). Bursary amounts are in line with the NRF's 2022 full cost of study (FCS) allowances. These are:

R150 000 pa for honours
R170 000 pa for master's
R190 000 pa for PhD

Should you wish to top these bursaries up to a higher level, please motivate why this is necessary.  Bursaries will be subject to UCT's terms and conditions, including maximum allowed top-up rates (these will be given upon request).

Pilot Project grants

You may use the funds for honours bursaries. Master's bursaries can be motivated for if the following conditions are met:

The master's is designed as a one-year project.
If designed as a two-year project, you should provide proof that alternative bursaries have been applied for but not secured
You are awarded a second year of pilot project funding (projects are renewable for a second year subject to progress and available funding)

In addition, master's and PhD students can be paid as research assistants where appropriate and motivated.

7. Is there a prescribed budget template?

Yes, this is provided with the application templates

8. The "Expense exclusion" section of the programme call refers to "large equipment". What does this mean?

Large equipment is defined as anything above the value of R100 000. However, if you need a piece of equipment that costs more than R100 000 as an integral component to deliver your programme goal (not a service component), you can motivate to include it in your budget.

9. Can I use Pilot Project funds to buy equipment?

No, equipment is an ineligible cost for Pilot Project grants.

10. Can I apply as principal investigator (PI) of both a Grand Challenges Programme and Pilot Project?

You cannot be PI of more than one Programme or Pilot Project, nor can you be PI of both a Programme and a Pilot Project. You can, however, be a PI of one and co-investigator of another. Similarly, you can participate as a co-investigator in more than one Programme or Pilot Project.

11. Do the Theory of Change, budget, budget justification and biosketches count towards the ten-page limit of the proposal?

No, these are separate documents in addition to the ten-page proposal.

12. Can external partners (e.g. industry, civil society, NGOs, academic collaborators from other institutions) receive funds from this budget?

No, these are internal-to-UCT funds only. Some form of co-funding or in-kind commitment is required from external partners. However, funding for community groups and field workers may be motivated for.

13. What is the difference between the project funding period and the latest end date?

There is an end date beyond which no more funding will be released; however, if the project is delayed for a legitimate reason it can continue beyond the end funding date.

14. What should be included in my 2-page budget justification?

Please be detailed in your justification for each budget category. For the Consumables and Materials category, please justify broad line items such as: printing supplies; glassware; chemicals, reagents, etc. Please estimate supplies using an appropriate cost estimation method such as catalogue prices, vendor quotes or historical costs for like projects (appropriately escalated). The estimate should include all costs associated with obtaining that supply or material, including shipping, handling and delivery charges.
Register for the research d-school workshop
The first workshop has ended and information about the next one will follow and be communicated in due course.
Read some programme and pilot project summaries
Below are some programme and pilot project summaries submitted by potential applicants. These summaries are published with the applicants' consent. Names listed under the summaries are for contact purposes and not the full and final list of team members. If you love what they are doing and would like to get involved, please contact the International Grants Hub (IGH) and we will put you in touch with the lead applicant. Please also feel free to email IGH with your potential programme or pilot project summary to place on this website if you intend to submit an application and are looking for collaborators.
Please note that a completed intention-to-submit form is required for all applicants. The deadline to complete your intention to submit is 31 July 2022. 
Creating sustainable and inclusive socio-economic growth in mining intensive countries through regenerative agriculture of industrial crops

Vision 2030 Grand Challenges programme

Assoc Prof Jennifer Broadhurst

Of all the challenges that Sub-Saharan African countries face, generating sustainable and inclusive economic growth is one of the most pressing. This is particularly so in countries  with abundant mineral sources which have historically failed to transform that advantage into favourable development outcomes – a phenomenon known as the resource curse. One of the main underlying causes of this phenomenon is the lack of economic diversification, particularly in mining-intensive regions, with the inevitable closure of mines frequently creating an economic void and leaving behind both distressed communities and degraded environments. 

 Industrial crops provide an alternative option for post-mining land-use, due to their potential to utilise similar resources (land, infrastructure, and labour) and to promote economic diversification and economic growth beyond mining. Apart from restorative properties, industrial crops yield substantial lignocellulosic biomass which may be transformed to a wide range of products - including biofuels, biochemicals, biopharmaceuticals and biofibre products (textiles, furniture) - whilst simultaneously sequestering carbon dioxide.

The concept of using industrial crops to both stimulate post-mining economic opportunities within a mining community and rehabilitate degraded mine land is already being explored in the Resilient Futures Community of Practice project (www.resilientfutures.uct.ac.za), which adopts an inter-disciplinary and multi-stakeholder approach by including perspectives of natural scientists, engineers, economists, lawyers, mining companies, community representatives and other interested parties. This Grand Challenges project aims to build on this significant body of work through the adoption of a phased approach in the form of a proof-of-concept stage, a piloting stage, and the development of a robust business plan to support technology transfer and commercial uptake. Ultimately, this project seeks to contribute to the development of a national post-mining bioeconomy that is economically feasible and consistent with the principles of regenerative agriculture; enhances inclusive economic growth and diversity; creates employment at various job skills levels; and promotes private-public-people engagement and partnerships.

Future water prospects in South Africa at high risk: research and innovation for bridging the gap

Vision 2030 Grand Challenges programme

Future Water research institute

By 2030, South Africa is projected to have a water supply deficit of 3.8 billion m3 equating to a 17% gap between supply and demand. New research is needed that can shift current policy and conventional approaches to water resource management whilst achieving a better understanding of risk. Water-related risks arise from too little, too much, or polluted water - and all of these have significant impacts on the sustainable growth and development of all sectors of the economy, and on the well‐being of people and the environment.

This research programme will address water security from the perspective of reuse and recovery of resources from wastewater and stormwater, investigating new water management alternatives and addressing the risks involved. A multi-pronged, transdisciplinary approach is envisaged that will focus on the concept of 'net zero water' - enhancing water quality through innovative treatment and recovery processes that create multiple benefits across selected research sites in the laboratory and at field scale. Methods include GIS mapping, modelling (including the use of digital twins and IoT), scenario analyses, risk assessment and stakeholder collaboration. The importance of investing in people and meeting local interests is acknowledged in a commitment to processes of co-design and co-production of knowledge. The main research question is as follows: How can we design and execute South Africa's regenerative water systems while minimizing harm to the environment and people, as well as improving equity?

Research teams will be drawn initially from the faculties of EBE (Civil / Chemical Engineering, APG), Science (EGS), Health Sciences (Public Health) and Humanities (Social Anthropology) and will expand into other departments and disciplines as required. We will work alongside civic organizations and stakeholders in the water and sanitation sector, and within partnerships with external institutes such as IWMI and ARUA on the development of translational research outputs to influence policy.

Plastics to Power (P2P) project

Vision 2030 Grand Challenges programme

Assoc Prof Nico Fischer

The Plastics to Power (P2P) project proposes to develop a new technology, which catalytically converts common plastic waste into hydrogen and carbon nanotubes. Over the three years, the process will be advanced from the existing laboratory-based proof of concept towards a validated technology for a pilot plant, i.e. from a technology readiness level of 1 to 4.

In comparison to conventional, mechanical recycling, the here proposed technology removes plastics from circulation. Mechanical recycling is often limited to single re-use in form of lower grade products with only 2 % of all packaging plastics re-used as native feedstock. The balance is at best re-used in lower value products, such as polyester fibres, which are not further recycled. Chemical recycling, i.e. the deconstruction of plastic polymers, of common plastics is limited to incineration and gasification, with the latter yielding fossil-like feedstocks such as crude oil equivalents. As such the technologies allow to re-use the fossil carbon locked in plastics once, but ultimately result in carbon dioxide emissions. In comparison, the technology proposed in the present proposal 'mineralizes' fossil carbon from plastics into high-value carbon nanotubes while the chemical energy is stored in hydrogen gas which can be converted on demand into emission-free electricity via fuel cell technology.

Especially in developing countries, efficient waste collection has been identified as a major challenge. The technology proposed in the P2P project has the unique opportunity to create significant impact in the community. Plastic waste collected could be exchanged into energy credits at centralized take-off points or via microgrids. The technology operator would provide the infrastructure and receive high-value carbon nanotubes as product. Through the incorporation of social work expertise, the P2P project will investigate possible deployment strategies and challenges in impoverished communities, guiding technology development throughout the project and increasing the chances of successful deployment in the future.

The development of a simulation based medical education (SBME) sexual assault assessment programme for the training of Healthcare professionals

Vision 2030 Grand Challenges programme

Marvin Jansen

Sexual violence is a significant and pervasive public health concern, yet scarcely reported and investigated by appropriate authorities, especially in sub-Saharan Africa. Statistics show that about a third of girls in South Africa will experience some form of sexual abuse during their lifetime, and one in five children will be sexually assaulted.

The role of health care providers includes identification of victims who have been sexually abused for prompt treatment and referral, initial supportive response to disclosure or identification and provision of clinical care, comprehensive post-rape care follow-up.

Despite this important role in the management of sexual violence victims, health workers are often unprepared and ill equipped to manage these patients.

Healthcare simulation is an instructional medium used for education, assessment, and research, which includes several modalities that have in common the reproduction of certain characteristics of clinical reality.

Simulation allows learners to practise authentic real-world problems related to their professional fields, as the opportunity to engage with these problems in the workplace is often sporadic or not feasible during their training. Additionally, practice in the workplace without adequate systematic guidance can be overtaxing for students and come with risks and potential ethical concerns.

There are many advantages which healthcare simulation affords healthcare training institutions, including decreased risk to patients and learners, customizable clinical scenarios not dependant on patient availability but student need, near-immediate feedback, repeatable reproducible opportunities to practice, practical hands-on experience for invasive procedures, the ability to allow errors to continue to their natural conclusion (good or bad), safe exposure to authentic medical equipment and, undesirable interference is reduced

The project seeks to develop an educational programme, including sexual assault manikin, through consultation with various stakeholders, such as biomedical engineering, department of health science education, department of forensics, and various NGOs.

An AI enabled modelling and simulation platform for automatic knowledge discovery in health and climate change

Vision 2030 Grand Challenges programme

Assoc Profs Deshen Moodley and Malebogo Ngoepe

Emerging Artificial Intelligence (AI) techniques can be used to substantially accelerate and deepen our understanding of complex dynamic physical and social systems. In the last few years, a new wave of Deep Neural Networks (DNN), i.e. Spatial-Temporal Graph Neural Networks, have emerged which can learn and encode complex non-linear spatial and temporal dependencies (flows) from heterogenous sensor observations in dynamic and erratic environments. Another AI technique gaining traction, agent-based modelling (ABM), provides an approach to the modelling and simulation of complex adaptive systems in which the overall behaviour is determined by the local action and interaction of a set of agents situated in an environment.

Every agent forms an autonomous decision-making entity and selects actions based on its own behavioural specification, internal state and perception of the environment. Computational mechanics has enabled characterisation, analysis and understanding of a wide-ranging set of problems by applying computational methods to the governing equations of mechanics. However, in some instances translation of these techniques has been hindered by high computational cost. Our proposal brings together the fields of artificial intelligence and computational mechanics to explore and develop new modelling and simulation paradigms for knowledge discovery and decision making. We will initially explore modelling and simulation tools and platforms to solve challenges in health and climate change, but our aim is to develop general cross-cutting methods that can be applied to other domains and challenges.

Our initial focus will be on casual reconstruction of complex and erratic flows in circulatory systems, within the theme of adaptive modelling, online simulation and predictive modelling of complex dynamical physical systems. Our unique strength, which is our local limited resource context, will enable us to develop questions, methods, solutions, and modelling and simulation tools and platforms that can substantially accelerate knowledge creation in the global south.

AmASING: African-izing marine Sustainability and Innovation for a New Generation

Vision 2030 Grand Challenges programme

Assoc Profs Lynne Shannon, Astrid Jarre; Dr Emma Rocke and Dr Louise Gammage on behalf of MARIS

Given the urgency of the global crisis in biodiversity loss and climate change, there is a strong focus in the international arena on formulating and actioning targets to address these interlinked crises that are seriously threatening life on earth, and the sustainability of humankind. Global initiatives such as the Intergovernmental Science-Policy Platform on Biodiversity and Ecosystem Services (IPBES), and the Global Biodiversity Framework currently being finalized by the Convention on Biodiversity (CBD), are working towards actioning global solutions to curbing biodiversity loss, loss of ecosystem services and overall sustainability. At the same, people depend on these ecosystem services and struggle with day-to-day and long-term decision-making, which is exacerbated by high uncertainty.  Drawing on marine expertise across multiple marine disciplines at and beyond UCT, we propose an ambitious project aimed at translating global biodiversity and climate targets to locally-relevant, Afrikanized targets.

We aim to identify and support actions that are practical, implementable, relevant and urgently needed to ensure marine ecosystem services (including climate regulation, seafood provision and socio-cultural services) for South Africa's diverse human communities as well as to sustain our rich and unique marine biodiversity. To address these grand challenges, we will bring together our combined knowledge and expertise in sustainability of marine fisheries under climate change, oceanographic changes off our coast, ecological and environmental tipping points and social-ecological system impacts. The proposed project will incorporate novel engineering, genomics and imaging approaches to monitor these changes as well as human dimensions of climate and biodiversity change, more specifically improving decision-making at various governance levels to improve long-term sustainability.

Methods to be employed will include crucial synthesis work related to  ecosystem and oceanographic modelling, genomics, novel engineering and methodology for long term monitoring of phenotypic and genotypic properties and their drivers, biogeochemical fluxes of key nutrients, trans-disciplinary research with coastal communities and co-designed scenarios for multiple futures and learning experiences. We will focus on synthesizing how combining these research fields can inform existing frameworks for the sustainable governance of marine ecosystem services in South Africa.

Understanding and mitigating the societal impacts of air pollution in mineral-rich countries

Vision 2030 Grand Challenges programme

Drs Johanna von Holdt and Itumeleng Ntatamala

Air pollution has significant health and environmental consequences worldwide, with many pollution sources linked to manufacturing and power generation. The extraction, transportation and downstream utilisation of mineral resources has significant impacts on air quality, particularly in resource rich developing countries, such as those in southern Africa (i.e., South Africa, Namibia, Botswana, Zimbabwe, Zambia, and Mozambique). Mining-host and mining-affected communities are potentially exposed to increased air pollution resulting in more severe health outcomes due to the dispersion of particulate matter and gaseous emissions from mining operations and associated downstream activities. The impact on natural ecosystems can also be significant with soils, vegetation (including crops) and water resources negatively affected by emissions resulting in further indirect effects on communities.

The extensive semi-arid to arid regions of southern Africa exacerbates particulate emissions and makes this region particularly vulnerable to the effects of climate change which may increase dust emission from drier mining operations and natural surfaces. Mining and associated activities can also have significant consequences for the well-being and socio-economic development of communities, often thousands of kms from the actual mine site. The diverse impacts of atmospheric emissions from mining and related industries are generally not well quantified and understood and this requires an inter-disciplinary, multi-stakeholder approach due to the complexities involved. Our aim is to improve the socio-economic well-being, health, and environment of mining-affected communities. Achieving this aim necessitates investigations of the health and environmental effects, mitigation and rehabilitation, the influence of governance and legislation, the way we monitor and measure air pollution, the impact of emissions on socio-economic development and climate change considerations. This project will build on the work started by the GCRF Mine Dust and Health Network comprising researchers from several departments at UCT and beyond (www.minedust.org).

 

Potential collaborators who have expressed an interest:

Chem Eng – Jennifer Broadhurst and Megan Becker

Health Sciences – Itumeleng Ntatamala (co-PI), Shahieda Adams, Muazzam Jacobs, Aqiel Dalvie

EGS – Johanna von Holdt (PI), Frank Eckardt, Chris Lennard

Information Technology – Gwamaka Mwalemba and Elsje Scott

Anthropology – Helen Macdonald

Law – Bernard Kengni and Hanri Mostert

DPRU – Kezia Lilenstein

The co-development of a Resilience Observatory in Cape Town

Vision 2030 Grand Challenges pilot

Dr Ffion Atkins, Prof Mark New and Assoc Prof Kirsty Carden

Urban resilience is a term that has gained increasing attention and use across academic, development, management and corporate spheres and is often framed as an outcome of sustainable solutions to complex social and environmental challenges. Embracing the many interpretations and understandings, we consider resilience as both an approach to understand and map-out context, actors, conditions and capacities of a system (e.g. an urban system/city) and as an outcome. There is increasing recognition of the need to provide place-based, long-term interdisciplinary observation of social-ecological systems with many such research agendas recently (or in the process of being) established around the world (e.g. critical zone observatories, long term ecological research networks, urban observatories).

We propose the notion of "Resilience Observatories", here defined as a 'longitudinal, long-term research platform collecting core data in a regular manner, with a unique focus on observing the multiplicities of resilience in and of social-ecological systems'. This pilot-project entails the co-development of the concept of a Resilience Observatory for Cape Town, focusing on the co-production of a knowledge base surrounding the 1) functionality of Cape Town as a system, 2) desired transformations towards resilience and 3) constraints and enablers in fostering these transformations. The process aims to map out the multiple narratives of how resilience is understood across academic disciplines, city policy and governance, and importantly in civil society and non-profit organisations. Grounded in the realities of city-level actors, the primary outcome of this pilot-project will be a set of well defined 'resilience' metrics that the proposed observatory would measure, ideally as a first baseline data collection of a core data set. Such a starting point for the resilience observatory would form the foundation of a roadmap to track and indeed support the resilience of a just city in the face of climate change impacts.  

Various pilot project related to the Music Technology Section of the South African College of Music (SACMMT)

Vision 2030 Grand Challenges pilot

Theo Herbst

SACMMT is the music technology section of the South African College of Music. The smallest section by far, its operation and growth is the responsibility of a senior lecturer supported by a Principal Technical Officer. It is nevertheless dynamic and ambitious, seeking funding to articulate components of ongoing activities and initiatives as five Grand Challenges pilot projects. These projects confront intellectual-cultural insularity and the commitment of technologies from mature industrial bases to serve entertainment industries. They advocate investment in electro-acoustic composition, performance and production; education and in alliances with centers of learning and private sector partners. And they pursue vocational and theoretical outcomes to niche research questions.

You can read more about the various proposed pilot projects in this document.

NeuroHealth: technology-based screening for mental health and psychosocial risk factors in South African youth living with HIV – NeuroHealth 4 You(th)!

Vision 2030 Grand Challenges pilot

PI Dr Nicole Phillips, and co-PIs Prof Jacqueline Hoare and Assoc Prof Leigh Schrieff

Screening for mental health, cognitive impairment and psychosocial risk requires screening tools which are brief, use minimal resources, and are validated for local use. The development of these tools is particularly needed for youth living with HIV (YLHIV) to facilitate their access to appropriate care in busy clinical settings, where the focus is frequently on physical outcomes and mental health is often overlooked. YLHIV with mental health problems are at increased risk of poor health outcomes and difficulties with adherence to antiretroviral therapy (ARV). Furthermore, YLHIV are exposed to numerous risk factors which affects their mental and physical health.

This project aims to develop and validate a technology-delivered (e.g. tablets) screening tool, NeuroHealth, to assess youth at risk for depression, suicide, anxiety, cognitive impairment, and trauma. Validated quick screening tools will have a positive impact on the way clinical and support services are accessed and utilised in resource-constrained settings, like South Africa and facilitate movement towards youth-focused, integrated HIV care which goes beyond the prescription of ARVs.

Preliminary analysis supports the need for a comprehensive mental health screen for vulnerable youth.

Adolescents attending the Groote Schuur Adolescent Center of Excellence (ACE) will be recruited into the study and will complete a battery of mental health assessments considered to be the gold standard in clinical practice, as well as in-depth qualitative interviews. From this data we will develop and validate a quick screening package, i.e.: The NeuroHealth screening package. Once validated, this screener will be advanced into an online platform. Developed in collaboration with youth participants and peer mentors, the platform will be accessible from any internet connected device and can be used to screen adolescents in clinic waiting rooms. This screening information could be used to guide service utilization by youth attending ACE and other primary health care facilities.

Improving maternal and perinatal outcomes in hypertension in pregnancy - developing and piloting a digital information system for maternal care records

Vision 2030 Grand Challenges pilot

Dr Lamees Ras

AIMS: Identification of high risk pregnant and postnatal women, specifically focusing on hypertension in pregnancy, with timeous referral and management at the appropriate level of care.

PRIMARY OUTCOME: The impact on hypertension in pregnancy

INTERVENTION: Digitization of the Maternal Health Record enhanced with artificial intelligence (AI)-based algorithms is critical to an efficient antenatal risk stratification system, especially focusing on hypertension in pregnancy. The application will be a set of services that work together to make up a full antenatal care package and include:

Video-telemedicine to connect pregnant women to their healthcare providers and healthcare providers to each other at various levels of care. This function will aid in creating rural-urban linkages that improve the quality of antenatal health care, improve access to health services, reduce time out of employment with scheduled appointments, improve adherence to appointments and reduce transport costs.
Appointment scheduler would allow pregnant women to schedule new appointments and reschedule appointments that cannot be attended. This will improve attendance and adherence to (in-person/telemedicine) consultations.
Patient information related to pregnancy, foetal development, health conditions, health promotion.
Routine Measurement input into app including blood pressure, urine dipstix, and other pregnancy-related measurements). An alert is sent to the patient and healthcare facility when a measurement is abnormal along with a recommendation of action. An urgent appointment can then be set up on the appointment scheduler, or emergency transport services can be activated.

PROPOSED COLLABORATIONS: UCT Department of Obstetrics and Gynaecology, Department of Family Medicine, Health Innovation and Design School, Information Technology

ANTICIPATED LIMITATIONS: The major limitation anticipated is access to smartphone/tablets and reliable internet access, particularly in rural areas.

Instituting principles for ethical social media practice

Vision 2030 Grand Challenges pilot

Dr Lisa Seymour, Prof Irwin Brown, Dr Sharon Geeling, Adheesh Budree, Dr Zane Davids, Dr Henri Knoesen and Assoc. Prof Melissa Densmore

Social media like WhatsApp, Facebook, and Instagram are an indispensable part of society yet cause harm. Social media is implicated in increased levels of anxiety and depression, suicidal thoughts, and eating disorders amongst adolescents and has been used to incite violence against ethnic minorities. Social media has been used by organisations to manipulate personal information thereby changing individual behaviour, like purchasing choices or voting habits. Such practices contribute to claims that an invasion of digital solutions conceptualised with societal benefit as a secondary consideration is leading to a gradual deterioration of society. These technologies have raised deep moral problems that require new ways of thinking.

The information systems field has a history of engaging with the moral dilemmas caused by introducing novel technology into society. These ethical concerns overlap the boundaries of academic disciplines. For instance, ethical principles to mediate the use of personal data need to consider the design of information systems, the content of platform policies and procedures, the economic implications for platform owners and the socio-political context within which the platform operates. We argue that early involvement by African scholars in resolving these concerns is imperative for ensuring our perspectives are represented in the solutions that emerge to improve adolescent health and advance more equitable and just communities.

CITANDA is aiming to contribute to implementing feasible ethical principles to mediate social media interactions within and by organisations. Implementing these principles can mitigate risk and increase appropriate use of the technology as well as inform policy and society of the moral obligations of its development and use. Our current project began in 2021. We are using action research to analyse current mediation practice and to evaluate future practices. We are building on our prior work where we developed a theory for analysing social media platform ethics.

Developing a UCvenT Bilevel Positive Airway Pressure (BPAP) Ventilator

Vision 2030 Grand Challenges pilot

Assoc Prof Sudesh Sivarasu, Sarah McEwan and Jeran Cloete

The UCT MedTech team is developing a non-invasive ventilator designed to address many of the problems plaguing life support devices in an African context. The project is currently at a Technology Readiness Level (TRL) of 4 (Technology Validated in a Lab), and multiple funding applications are underway to take the ventilator to TRL 7 (Technology demonstrated in an operational environment).

Transdisciplinary research

As a software-defined ventilator, UCvenT will provide a bidirectional pathway for academic advancements to be implemented in African hospitals while enabling challenges in the healthcare environment to feed back to educational objectives. Key focus areas that interface with UCvenT are machine learning, data science (healthcare data), 4IR connected devices, and life support clinical strategies.

SDG 9 - Industry innovation and infrastructure & 17. Partnerships for the Goals

UCT will partner with a South African medical device manufacturer (Akacia Medical) to carry the final product to the mass market. It is helping to shift the South African medical manufacturing sector away from single-use items that struggle to compete with imports toward higher-value devices.

SDG 12 - Responsible Consumption and Production

With a focus on repairability, UCvenT is breaking the mold of closed device ecosystems that force South African hospitals to form dependencies on international manufacturers. The modular design means that faulty components can be replaced with off-the-shelf alternatives, ensuring that the device will have an extended operational lifespan, reducing waste.

SDG 3 - Good Health and Well Being & 11. Sustainable Cities and Communities

Fair delivery of healthcare requires bringing healthcare to the people. UCvenT will be able to operate outside of a hospital environment, bridging the gap between rural communities and hospitals, with extended battery life and advanced usability features enabled by its 10.1" touchscreen.

UCvenT Objectives & Design Summary

Design Feature Implementation

Off-grid operation

Long-life battery backup

Modular internal component design

Key components have standardised interfaces with each other (can be replaced with commercially available alternatives to prevent supply chain issues).

Easy and fast to set up for clinicians

Single-limb breathing circuit.

Minimise the required support infrastructure and extend device lifespan

The external expiration valve eliminates the need for device sterilisation, Permitting re-use in the field while preventing cross-contamination.

Future-proofed against emerging health care practices

Software-defined ventilation. Future proofs of the device because software updates can change the ventilation strategy.

Suitable for emergency use and field operations with varying clinical skill levels                           

User-friendly software to provide simplified operation for minimally trained users.

Minimise medical gas waste

Digitally controlled oxygen flow regulator reduces wasted medical grade oxygen.

Biomimetic hydrogels for myocardial infarction therapy and in situ wound healing

Vision 2030 Grand Challenges pilot

Prof Deon Bezuidenhout, Prof Neil Davies, Prof Thomas Franz and Assoc Prof Malebogo Ngoepe

Physical sciences in oncology in Africa

Vision 2030 Grand Challenges programme

Prof Thomas Franz

Developing innovative next generation targeted immunotherapeutics to treat cancers relevant to Africa

Vision 2030 Grand Challenges programme

Assoc Prof Virna Leaner, Prof Sharon Prince and Prof Stefan Barth

Climate Action Innovation Lab (CAI-lab)

TBC if Vision 2030 Grand Challenges programme

PI: Assoc Prof Gina Ziervogel

ACDI (African Climate and Development Initiative)

Hasso Plattner School of Design Thinking

Bertha Centre for Social Innovation and Entrepreneurship

UCT's Graduate School of Business

Environmental Sustainability (Office of the Vice Chancellor)

Climate change is fundamentally threatening the attainment of all Sustainable Development Goals, and its impacts will become ever more serious, especially for already vulnerable and disenfranchised groups in society. Responding to these risks will require much more creative, collaborative, inclusive, and rapid innovation in regulatory systems, supply chains, technology, and business models, in energy, water, waste, and other sectors. 

Universities are supporting some such innovation, but are not fulfilling their full potential. Much of the climate and development research focuses on diagnosing challenges and perhaps suggesting solutions. Potential climate actions are rarely developed collaboratively across academia, government, business and civil society, nor are they taken further into prototyping, piloting and upscaling. 

We thus propose the Climate Action Innovation Lab (CAI-Lab) as a transdisciplinary space that brings together diverse collaborators from academia and society – including government, industry, civil society and entrepreneurs – to creatively conceptualise, test and pilot potential solutions that address complex climate-related social problems. Such solutions may take diverse forms, including market-based, bankable ventures and co-designed changes to public policy and regulation. 

The CAI-Lab will convene and support innovation teams focused on specific climate-related challenges, including UCT researchers and problem-specific practitioners. The UCT researchers are drawn from diverse departments in Commerce, Engineering and the Built Environment, and Science faculties, with an important role for cross-departmental initiatives such as ACDI and the D-School. Researchers from other universities may also be involved in specific innovation teams. Practitioners will include managers from UCT and other universities; local, provincial, and national government; intermediary organisations such as GreenCape and the Western Cape Economic Development Partnership; and businesses and civil society organisations. Some of the innovation challenges we include as candidate projects focus on waste, water, and energy. 

The CAI-Lab will support 3-5 such innovation teams in its first three-year phase. Each innovation team will be supported through a five-stage process: convening, ideating, prototyping, testing, and scaling. The design and implementation of this process will make use of design thinking and "change lab" principles and tools, as well as the CAI-Lab leadership team's experience in designing and convening diverse collaborative innovation processes, such as the GSB's Solution Space, the ACC's CityLabs, and the Southern Africa Food Lab. 

Key CAI-Lab outputs will include practical innovations that address complex climate-related social challenges; practitioner-oriented publications that communicate the process and outcome of the innovation teams to an international audience; scholarly publications in fields such as climate change, development, and social innovation; and diverse student projects that are linked to the innovation teams and the CAI-Lab's work more broadly.

Co-creating sustainable responses to strengthening hunger alleviation, resilience, and economic participation among vulnerable women in South Africa (Co-SHARE)

Vision 2030 Grand Challenges pilot

Assoc Prof Ameeta Jaga, Assoc Prof Sarah Chapman, Prof Fiona Ross, Dr Jane Battersby, Dr Wanga Zembe (South African Medical Research Council), Tristan Görgens (Western Cape Government)

Our proposal addresses an urgent and critical challenge in South African society, that of women's increasing vulnerability to problems of poverty and inequality. The COVID-19 pandemic escalated levels of economic insecurity and intensified household hunger and mental illness in South Africa. These consequences disproportionately affected vulnerable women, particularly those in households with children and other care responsibilities. Government policy and intervention responses to addressing these challenges are unlikely, on their own, to solve these problems. For example, hunger relief interventions implemented during the COVID-19 pandemic have inadequately considered the links between food security, mental wellbeing, care work, and economic participation among vulnerable women. These women are arguably best suited to determining appropriate responses to imagine new pathways for their economic security and wellbeing that are empowering and supportive.  

We propose a pilot study where we co-create with the women themselves, and a local community network focused on empowering women, a research agenda that will inform future empirical projects. This research agenda will prioritise these women's existing experiences, centring their knowledge in reimagining what support can look like for their economic security, wellbeing, food security, and care work. Taking a feminist intersectional and southern approach, these knowledges will guide the development of research questions that incorporate the intersecting vulnerabilities in nuanced and context-sensitive ways from a southern location, thereby also addressing the geopolitics of knowledge production.  

We adopt qualitative participatory methods that incorporate arts methodologies as means of engaging with different forms of knowledge to understand the vulnerabilities and strengths of women in their communities, and to ground the research agenda in context. This proposed research contributes to a range of interrelated Sustainable Development Goals including zero hunger and wellbeing; gender equality; decent work, and reduced inequalities. 

The development of a community-based, disability-inclusive disaster and first aid response system

Vision 2030 Grand Challenges pilot

Assoc Prof Judith McKenzie

Climate change threatens the lives and livelihoods of all on the planet. The most vulnerable communities to climate change-related health emergencies are those in low-resource settings and marginalised people, including persons with disabilities. The latter are particularly exposed to climate change-related health emergencies, and during instances of extreme weather events or other disasters are often left without much support or consideration, as services are ill-equipped, untrained or unprepared to include disability. Persons with disabilities are more likely to be injured during evacuation, abandoned or separated from their families, unable to access critical and specialised health services, and are overall twice as likely to die in a disaster event. One way to mitigate against this is to ensure that disaster preparedness plans are disability informed, inclusive and responsive, accounting for the needs of disabled persons and working closely with communities. It is essential for humanity to be prepared for climate change-related health emergencies to minimise impact and ensure resilience, and to do this inclusively, not leaving anyone behind.

This project is a collaboration between emergency care, disaster medicine, disability studies, anthropology and climate science.

This pilot project seeks to develop a community-based, disability inclusive disaster and first aid response system. First, we seek to understand the current reality as it relates to climate change-related health emergency risk and vulnerabilities, including access to emergency medical services for persons with disabilities. This will be established through an ethnographic observational study, a formal community-based disaster risk assessment, interviews and focus groups that seek to understand the community's thoughts and perceptions of risks. Hereafter, through participatory approaches, we seek to develop a bespoke, tailored, community-based early warning and response system in the event of climate change related-health emergencies that is disability inclusive and responsive. We also seek to empower communities to respond to emergency situations by adapting existing a community-based first aid responder programme to support early access to life-saving skills and interventions, that are for the community, by the community. Throughout this project, we will adopt the philosophy of nothing about us, without us, embedding a disability-inclusive approach throughout the life cycle of the project, thus ensuring vulnerable communities are catered for and uplifted.

Investing in our future: Developing and piloting a multi-dimensional service package to support return to school of pregnant and adolescent mothers

Vision 2030 Grand Challenges programme

Assoc Prof Elona Toska, Dr Jane Kelly, Chelsea Coakley, Dr Abigail Ornellas, Dr Hlokoma Mangqalaza, Dr Janina Jochim, Lulama Sidloyi, Dr Christina Laurenzi, Dr Emma Chademana and Professor Lucie Cluver

In South Africa, one in three adolescent girls has a child by the age of 19, with similar pregnancy rates amongst adolescent girls living with HIV. Adolescent motherhood is associated with poor social, economic and health outcomes for both mother and child: lower socio-economic status, school drop-out, reduced career prospects and poorer physical and mental health outcomes. The education sector can play an important role in reducing adolescent pregnancy by addressing some of its underlying causes, but this sector is also well-placed to respond to the support needs of adolescent mothers. This is recognised in the Department of Basic Education (DBE)'s recently launched Policy on the Prevention and Management of Learner Pregnancy, which aims to prevent adolescent pregnancies and strengthen support for adolescent mothers to enable their return to and completion of school following childbirth. The DBE is in the final stages of drafting the implementation plan for this new policy, which

In partnership with the DBE, the UKRI GCRF Adolescent Accelerators Research Hub (led by an interdisciplinary team at the Universities of Cape Town and Oxford) is conducting research on DBE's new implementation plan, which is designed to achieve national-level policy impact on good health and well-being, quality education and gender equality. Specifically, we are developing a support package for pregnant and parenting female school learners, which aims to achieve the following educational and health outcomes i) school retention during pregnancy and return post-birth, ii) school progression, and iii) pregnancy prevention.

The package would include three primary components that would begin in the antenatal period and continue after birth: peer-based support groups, 1:1 case management, and onward referrals to/linkages with relevant health and social services, including available childcare services, social grants and antenatal and postnatal care. We intend to pilot this support package in collaboration with three partners located in the Eastern Cape: 1) the Small Projects Foundation which provides support services to young people (including pregnant mothers in schools) in the Amatole District and Buffalo City Municipal areas 2) One to One Africa which implements a Mentor Mother programme to mothers, including young mothers, in the rural O.R. Tambo District, and the Hub's Teen Advisory Group. Additionally, we will collaborate with school-based support teams and learner support agents in implementing the support package, to ensure its sustainability through existing mechanisms in school settings.

We adopt a three-pronged approach in developing this support package, drawing on i) evidence of best practices from existing local and international implementation models, ii) analysis of quantitative data from a longitudinal cohort study with n=1044 adolescent mothers and their children in the Eastern Cape (HEY BABY), and iii) findings from participatory action research activities with adolescent mothers and young people. This approach will ensure that the support package is not only evidence-based and data-driven, but responsive to the expressed needs of adolescents and young people in South Africa.

A new Centre for Molecular Oncology Research (CMOR)

Vision 2030 Grand Challenges programme

Prof Kevin Naidoo, A/Prof Anwar Jardine, A/Prof Freedom Gumedze, Prof Suhail Rafudeen, Prof Jeannette Parkes, Prof Lydia Cairncross, Prof Alan Davidson, Prof Komala Pillay, Prof Raj Ramesar  

An estimated 110 000 new cases of cancer occur annually in South Africa. Prevalent cancers include cervix, breast and colorectal in females; prostate, colorectal and lung in males and haematological malignancy and brain tumours in children. Clinicians are desperately searching for improved and locally relevant instruments for early diagnosis, prognosis and therapy as well as diagnosis of early relapse.

Because of the heterogeneity of every type of cancer, research breakthroughs in developed economies based on histopathological and/or molecular methods and classification schemes derived from their populations is seldom translatable in African populations. As the pathophysiology of distinct diseases is related to epigenetic changes in complex biological settings, systems-based approaches have been developed to identify crucial markers for disease. Every major national strategy now undertakes to diagnose and treat cancer based on molecular classification.

This nascent scientific and medical revolution creates a window of opportunity for South African researchers to make a significant contribution to cancer research. The uniquely diverse gene pool within the Western Cape and local environmental and population-based factors, converge towards identifying solutions in cancer diagnosis and treatment, and provide a distinct advantage for researchers across the Faculties of Science and Health Sciences UCT and its affiliated hospitals. Connecting existing teams of clinician researchers who have a track record of treating and conducting research on cancers disproportionately affecting South Africans, with resident laboratory, computational and statistical expertise in the basic sciences, presents UCT with an unprecedented opportunity to advance the frontiers of cancer research. Here we propose to join these disparate efforts across the University to establish a new Centre for Molecular Oncology Research (CMOR) that will produce interdisciplinary state-of-the-art research with a focus on early diagnosis, improved prognosis, and treatment of cancers prevalent in our adult and paediatric populations, with major socio-economic impact for South Africa.

Opening up Global South knowledge: Open textbooks in Africa for social justice

Vision 2030 Grand Challenges pilot project

Open textbooks are an important phenomenon in the global higher education landscape with compelling affordances around cost savings and content development approaches that address localisation and decolonisation of the curriculum. There is however very little open textbook conversation, publishing activity or advocacy taking place in African higher education institutions (HEIs). 

The DOT4D project is an open textbook research, implementation and advocacy initiative in the Centre for Innovation in Learning and Teaching at the University of Cape Town (UCT). Having completed its first three-year research cycle on open textbook production at UCT, the initiative is eager to contribute towards the growth of a broader open textbook community of practice and to build upon the work it has undertaken to date in articulating models of open textbook production that promote social justice and are sustainable in resource-constrained environments. 

DOT4D findings indicate that OTs have the potential to disrupt histories of exclusion in South African HE institutions by addressing issues of cost and marginalisation of voices through the creation of affordable, contextually relevant learning resources. They provide affordances which enable lecturers to change the way they teach, include student voices, and create innovative pedagogical strategies.  

The 'Open Textbooks in African Higher Education' project aims to: 

1. Raise awareness of open textbooks as a strategy for addressing financial cost burden, curriculum transformation and decolonisation, and the performance gap in African HEIs. 

2. Articulate mechanisms that can be employed across institutions to support local open textbook development. 

3. Identify a community of practice that can collaborate on supporting open textbook production.  

4. A review of intellectual property policies to alleviate IP constraints to staff and students wanting to undertake open textbook production. 

5. An audit of local, institutionally supported IT infrastructure available to facilitate textbook creation, publishing and curation across a wide range of formats and disciplines. 

Transdisciplinary (TD) Hub

Vision 2030 Grand Challenges pilot project

Prof Sheona Shackleton, Dr Nadine Methner, Dr Anna Taylor, Dr Amber Abrams, Alice McClure, Prof Lindsey Gillson, Dr Benita Moolman, Prof Zarina Patel

South Africa, like many African countries, is facing unprecedented sustainability challenges (including ecosystem degradation, climate change and increasing inequality) that are multifaceted, interconnected, and dynamic. Such problems can only be holistically understood and effectively addressed, by bringing together diverse ways of understanding. By developing inclusive partnerships between actors across and beyond academia to co-produce knowledge and services, transdisciplinarity (TD) is a promising approach to address these challenges. While excellent transdisciplinary work across universities is growing, barriers exist to systematically grow and integrate TD into research and teaching agendas.

We propose the development of a Transdisciplinary Hub to nurture and catalyse the growth of TD practice and theory within and beyond UCT. The pilot project will establish various modalities to recognise and enhance TD competency at UCT. Such a Transdisciplinary Hub is central to UCT's Vision 2030, providing opportunities for addressing sustainability challenges, positioning UCT as a leader on Africa-oriented TD and mentoring ECRs to be change makers.

The TD Hub will convene spaces that bring together a range of currently disconnected efforts at UCT with the purpose of learning, networking, aligning and leveraging including monthly mentoring sessions, a TD working group, a public showcasing festival, and a seminar series. Outputs will include a special issue on Africa-oriented TD, curriculum design for a TD Masters module to be integrated in a range of existing programs, and convening a session at the bi-annual International Transdisciplinary Conference. Through capacity strengthening and focusing the academic project on the needs of South African communities, the Hub will position UCT as a key contributor to realizing a range of SDGs, specifically SDG 17: Partnerships for the Goals.

We are looking for collaborators from different faculties who work on sustainability and want to advance TD.

Please contact zarina.patel@uct.ac.za if you are interested.

A Past-Present-Future Perspective on Sustainable Ecosystem Services in African landscapes

Vision 2030 Grand Challenges programme

All humans depend on ecosystems and the services that they provide. Rapid restoration and sustainable management of ecosystems is urgently needed.  However, this task is challenging because of 1) a scarcity of long-term context for interpreting recent changes 2) the difficulties of translating long-term data into metrics that are understandable and useful to stakeholders 3) the complexity of social-ecological interactions within which decision-making takes place, 4) uncertainty regarding future environmental, social and economic change. 

This project proposes to address these challenges in the following ways. 

We will synthesise long-term data from palaeoecology, repeat and historical aerial photos and satellite imagery to reconstruct changes in land-cover over timescales of decades to millennia. The data will be calibrated by comparison with modern proxies and photographs. 

We will translate these data into metrics that are understandable and usable to decision makers, for example, changes in carbon storage, grazing, and nature tourism potential. We will develop Ecosystem Service (ES) Indices that can be used to assess the trajectories of ecosystem service conditions over time, and provide reference conditions on which to base appropriate management decisions and goals that reflect the resilience and ecological character of ecosystems. 

We will develop models that simulate the observed changes over time. Where possible, we will use participatory approaches that capture stakeholder understanding of ecological-environmental-social feedbacks. 

We will use these models to explore future scenarios of ecosystem service provision under different combinations of environmental, social and economic conditions. We will use scenario planning to help stakeholder communities, ecosystem managers, policy makers and other decision-makers to identify desired future scenarios and to identify leverage points that allow them to guide social-ecological systems to these scenarios.  

This project explores the interlinkages between SDGs 13: Climate Action 15: Life on Land and 17: Partnerships to meet the goals . Potential study sites where preliminary pilot work has already taken place include the Central Highlands of Madagascar, the Cape Floristic Region, The Drakensberg, and the Kruger National Park (South Africa).

The Healthy Cities Research Lab (HCL): Surgical health systems strengthening

Vision 2030 Grand Challenges pilot project

Prof Salome Maswime, Dr Hloni Bookholane and Moses Isiagi

Health is created and experienced by people within the settings of their everyday life, where they learn, work, play, and love. A healthy city encompasses physical and social environments and community resources which enable people to mutually support each other in performing activities of daily living. Africa's most valuable asset is its people. 47% of all productivity losses in the WHO African region in 2015 were due to non-communicable diseases and injuries, often treatable through surgery. Improved surgical care is an essential component of universal health coverage and contributes to good health, wellbeing, and human capital.

We aim to develop a research programme titled The Healthy Cities Lab (HCL)  that will become the nexus for clinical, translational, and policy research focusing on the determinants of healthcare and access to essential surgery. Our main focus will include; 

Social determinants of health 

Political determinants of health 

Environmental determinants of health 

Geospatial determinants of health 

Economic determinants of health

The HCL will facilitate multi-, inter-, and transdisciplinary collaboration. The Global Surgery Division has led research on the African continent on access to surgical care and surgical outcomes. Through the HCL, we will do research across the continent through our existing African Global Surgery networks: our public health systems has been found wanting, not because of an inherent lack of competencies – instead, systems that have failed the citizens. The grand challenge is to fix environments which perpetuate poor health.  

 

| | |
| --- | --- |
| | |
| | Availability of surgical services  |
| | Acceptability of services, the social determinants of health, and health-seeking behaviour   |
| Engineering and built environment  | geographical distribution of services, green cities, connectivity, land-use mix, residential density, transport density, walkability   |
| | Funding and cost of surgical care  |
| | Health governance and policy, legal and political determinants of health   |

 

Expanding Africa-centric Networks for Knowledge Production in Human Origins Research

 

Vision 2030 Grand Challenges programme

Co-PIs: Prof Rebecca Ackermann & Dr Robyn Pickering , Human Evolution Research Institute 

South Africa has a record of early human evolution unparalleled anywhere on earth. The most ancient human ancestors in the world come from Africa, including the earliest hominins, the earliest members of our genus Homo, and the earliest members of our species Homo sapiens. Understanding what it means to be human, and studying the richness and diversity of our species, relies on the investigation of our shared past and our remarkable history of adaptation, diversification and migration. This research plays a deep and unifying role in tackling challenges such as racism and xenophobia, which have plagued our country and our continent for many years, and which frame our daily interactions. However, human origins research has a history of racist science that has affected origins narratives, and helicopter research is ubiquitous. Research is overwhelmingly led by foreign, largely European and North American teams, and therefore authorship (and especially first and lead authorship positions) remains primarily in the hands of foreigners. These dynamics and the paucity of funding sources has left the existing African researchers largely dependent on these foreign teams for collaboration, which further contributes to extractive rather than locally generative collaborative research. Cross-institutional networks both within South Africa and between South African and other African institutions are woefully inadequate.

We propose the development of a palaeoproteomics/palaeogenetics preparation laboratory at UCT, research we are already involved in with collaborators overseas. This is a cutting-edge, big science field internationally, but with little traction locally, and has tremendous potential across the breadth of human evolution research, which would position UCT as the only institution on the continent doing this work. In combination with our exiting world-class research in a range of subfields (e.g. morphometrics, dating, archaeology), this will position UCT as a global leader in the field. Importantly, in order to leverage these assets and further grow African capacity at UCT and at partner institutions locally and across Africa, we will create a Human Evolution Training Network modelled loosely on the Marie Sklodowska-Curie European Training Networks. 

Collaborating Institutions include: Iziko Museums (Dr. Wendy Black); University of the Western Cape (Ms. Robyn Humphreys); University of Johannesburg (Dr. Dipuo Kgotleng); Ditsong Museum (Dr. Mirriam Tawane); Arba Minch University, Ethiopia (UCTs Dr. Yonatan Sahle is an affiliate), Turkana Basin Institute, Kenya (Dr. Job Kibii); University of Colorado Denver (Dr. Charles Musiba); University of Toronto (Dr. Lauren Schroeder). This proposal is relevant to two Vision 2030 Research Priority Areas, (2) Our Southern Location, and (4) On Being Human, and to SDGs 15 Life on Land.  Prioritising pan-African and female-centric partnerships and network building to grow African-led capacity and outputs in human origins research, and tackling the legacy of racist science and helicopter research, also contribute to SDGs: 5 Gender Equality; 10 Reduced Inequalities; 16 Peace, Justice and Strong Institutions; and 17 Partnerships for the Goals. 

Circular economy development in sub-Saharan Africa's construction industry

Vision 2030 Grand Challenges programme

Prof Hans Beushausen

The African Circular Economy Alliance has identified the construction industry as one of three key sectors for circular economy development in sub-Saharan Africa, based on the potential for positive social and economic transformation. A circular lifecycle model is a systematic approach to production wherein waste is treated as a secondary resource for the betterment of society, the environment, and the economy. This is in contrast to the existing linear civil infrastructure lifecycle model which is based on the design and construction of infrastructure from virgin materials, their maintenance, repair and rehabilitation, and eventual demolition. For the construction industry to move from a basis of extraction to one of value regeneration, a cradle-to-cradle lifecycle model for existing and new infrastructure is required. In such a model, waste from deconstructed concrete infrastructure can be used as a secondary resource in the design and construction of new concrete infrastructure and low strength concrete units for housing development. The latter is especially pertinent in the South African context where 12.7% of households reside in informal dwellings.   

 

The proposed project aims to investigate the missing link required to close the loop and develop synergies between the different stages of the lifecycle model, such that a circular and sustainable lifecycle model can be developed and implemented in human settlement development projects in African urban spaces. For this new model to be truly sustainable, it must serve all facets of urban society. This entails the education and skills development of all stakeholders, thereby generating employment opportunities in the civil infrastructure, housing, and waste management industries; building the physical and social infrastructure that supports daily life; and subsequently empowering local communities. 

Youth Engagement for Better Outcomes: Sleep & Social networks, Physical Activity and Nutrition (YEBO-SPAN) – "Future proofing" South African Adolescents 

Vision 2030 Grand Challenges programme

Prof Vicki Lambert

Background: South African adults face a high burden of non-communicable diseases (NCD)s, which can be addressed through modification of behavioural risk factors such as sleep, physical activity (PA) and nutrition. Juxtaposed with inequality, poverty, crime and unemployment, this syndemic impacts on physical and mental wellbeing and given the young median age and high prevalence of obesity and inactivity in South Africa, interventions addressing these risk factors may help in "future proofing" our youth. Few theory-based interventions address these combined adolescent health behaviours (sufficient sleep of good quality, opportunities for and participation in safe and enjoyable PA, increasing access to affordable healthy food and maintaining a healthy weight) in LMICs. Even fewer have been co-created with adolescents, targeting upstream determinants, as well as more proximal social networks, and individual self-management.

Aims: Therefore, the aim of this proof-of-concept study is to engage adolescents (Grades 9-10) from 6 schools (diverse SES) in intervention mapping to address these health risks, against primary outcomes, including obesity, anxiety, depression and academic performance. 

Methods: (i) Invite participants to collect baseline data on themselves (sleep, PA, nutrition, obesity, symptoms of depression and anxiety, academic performance);(ii) Conduct social network analyses to understand social influences on health behaviours;(iii) Create "citizen science advisory groups", collecting photovoice data on factors (home, school, community, built, regulatory and social environments) that may act as barriers to behaviour change, and (iv) Host workshops with citizen scientists to co-create intervention matrices aimed at improving these health risk behaviours. Each group will comprise an intervention matrix, identifying behavioural objectives and potential targets, ranking barriers and strategies according to importance and feasibility. A final workshop will be held for stakeholders from all schools, and students trained in advocacy will present matrices for comment and discussion.

Outcome: A final combined intervention matrix will be created, which will form the basis of future funding applications, to test intervention strategies and to document any "ripple effects", through youth engagement.   

Improving students' experiences through synergised peer-led mental health and financial wellbeing support  

Vision 2030 Grand Challenges programme

Dr Hillary Jephat Musarurwa

The COVID-19 pandemic has exposed South African university students to a plethora of financial and mental health stressors. Low financial wellbeing affects students' health (physical and mental), academic performance and future employment opportunities. Students enduring financial difficulties and debt are most likely to suffer from some form of stress or depression and can adopt damaging coping strategies. This combined increase in student mental health and psycho-social vulnerability outstrips the capacity of campus counselling services (Kaminer and Shabalala, 2019; Naidoo and Cartwright, 2020; Kailene Pillay, 2022).  

Using transformative service research, we propose to co-design an intervention that complements the academic support given to junior students by providing them with peer-led first line mental health and financial capability support. Participants will be drawn from first- and second-year students in the Faculty of Humanities who are experiencing Common Mental Disorders (CMD) and financial stress or low financial wellbeing (FWB) and are struggling with progressing through their studies. These will receive support from senior students who will be trained as Youth Peer Counsellors (YPCs) and/or Money Mentors (MMs). We further propose to promote social entrepreneurship amongst students in the by training these YPCs and MMs and supporting them in running a counselling centre and/or a student-led stokvel on campus. We will enrol postgraduate students who will collect data during the project tenure as they assess the prevalence of CMDs and low FWB levels amongst students. They will also document the co-design process and evaluate the impact of intervention(s).   

The following are the expected primary outcomes on the participants from the intervention. 

Improving student experiences and school involvement. 

Reducing self-reported mental health symptoms.  

Help students manage financial stress. 

Improving self-reported financial wellbeing. 

It is anticipated that the project will provide proof of concept for broader adoption of the interventions across universities.  

One health: An integrative approach to combat infectious disease and antibiotic resistance

Vision 2030 Grand Challenges programme

Dr Adrian Brink, Dr Lynthia Paul, Dr Brian Kullin and Assoc Prof Leon Holtzhausen

Collaborators

Faculty of Health Sciences (Division of Medical Microbiology and Division of Medical Virology, UCT),  

Department of Social Development (Faculty of Humanities, UCT), 

Scientific Services (City of Cape Town), 

Food Science (University of Stellenbosch)

The One Health concept recognises that human, animal, and environmental health are intrinsically linked. This demands interdisciplinary approaches linking aspects of microbiology, plants, aqueous environments, human communities, and animal research with the goal of developing holistic solutions to tackle infectious disease. The recent pandemic emphasised the need for involving multiple stakeholders in this process, ranging from government to scientists and the importance of including engagement between disease experts and the broader public to facilitate appropriate public health responses.  

The proposed One Health and Microbiology @UCT (OHM@UCT) programme focuses on infectious disease via the lens of the One Health framework.  The first phase will address the global antibiotic crisis, and the link between human infections and environmental reservoirs of antibiotic resistant bacteria.  Secondly, the programme aims to investigate microbial solutions to improving water quality management. Research questions include: What are the local environmental reservoirs of antibiotic resistant bacteria?  How do stressed resources, urban living conditions, economic factors and education impact the risk for urban dwellers to acquire infections from the environment? Could knowledge dissemination improve household hygiene practices, thereby impacting water and food safety in communities that lack the financial resources to maintain proper food storage, cooking, and disinfection?  

OHM@UCT will engage experts in clinical microbiology, molecular biology, social development, food science, public stakeholders in water quality management and local City of Cape Town communities.  Following phase one of the programme, the progress will be evaluated and expanded to include more microbes relevant to One Health.   

This programme will (1) improve our knowledge regarding bacterial reservoirs associated with human (and animal) health, and (2) enable the development of local strategies to combat drug resistance and human practices contributing to the development of antibiotic resistance. This knowledge is critical to drive policy changes aimed at improving infectious health in the Western Cape. 

Decarbonising the Mining Sector by 2040 

UCT Vision 2030 Grand Challenges Programme  

Adjunct Professor Michael Solomon, Future Water Institute, Minerals to Metals Initiaitve

The mining industry is amongst the heaviest generators of greenhouse gases globally.  While the goal of the Paris Accord is to achieve carbon neutrality for the planet by 2050 it is technically possible to decarbonize the mining sector by 2040. 

Decarbonization is often simplistically interpreted as being about renewable energy and the use of fossil fuels, but its far more complex than that.  It goes to the core of human behaviour driving wasteful consumerism and the exponential generation of plastic waste. The problem extends to deforestation for domestic fuel and desertification from the overgrazing of livestock. Mitigating the impacts of greenhouse gases through structured decarbonization strategies concomitantly requires a trans-disciplinary systems-based approach. This must bridge ostensibly disparate causalities and design integrated functional and economic value chains that serve to eliminate greenhouse gases through related carbon neutral processes. 

The architecture of these decarbonisation value chains incorporates related industrial ecologies for both manufacturing and sustainable ecosystem services.  These must be coherently designed to complement human settlement planning and biodiversity management programmes. This fundamentally requires a transdisciplinary approach in highly-coordinated multi-disciplinary teams. 

The Decarbonization of Mines Research Project is embedded in the Economic Succession Planning for Mines programme in the Department of Chemical Engineering. The programme is focused on and directed towards a decarbonized post-mining economy and underpins a process of Just Transition in the mining sector.   

In the Department of Chemical Engineering the project spans the Minerals to Metals Initiative, the Future Water Institute, Centre for Bio-Engineering Research and the Catalysis Laboratory.  It has a formal collaboration with the University of the Free State in a biomass-based synthetic diesel and decarbonized fuel project. 

For this Grand Challenge, the programme will be extended to other non-technical academic disciplines at UCT.  These will include the Africa Climate Change Development Initiative (ACDI), The Development Policy Research Unit (DPRU), Mining Law in Africa Initiative (MiLIA), the Land Accountability Research Centre (LARC) and South African Labour Research Development Unit (SALDRU).   

A prospective adolescent heart disease registry and integrated digital transition programme to empower and reduce care-gaps in adolescent patients with chronic cardiac condition

Vision 2030 Grand Challenges pilot

Dr Thomas Aldersley, Department of Paediatrics and Child Health, Division of Paediatric Cardiology, Faculty of Health

For adolescents with complex chronic conditions (CCCs), the transition from paediatric to adult care is a vulnerable period. Despite dedicated transition programs internationally, many patients with CCCs experience gaps in care or are lost to follow-up, both of which are associated with increased morbidity and poorer outcomes. Patient factors have been found to be primarily responsible for care-gaps internationally, however in the Southern African context, clinical experience suggests that process-related characteristics of care delivery have a larger role to play. In the absence of a dedicated transition programme locally, further investigation is required. 

This pilot project will focus on patients with congenital heart disease (CHD). CHD is common, with a birth prevalence of 9.4/1000, and constitutes a large proportion of all CCCs. Adolescents with CHD are therefore an ideal pilot group for our intervention. We aim to reduce care-gaps in adolescent CHD patients transitioning to adult care, through the creation of a prospective registry and integrated digital transition programme to address both patient and systems factors associated with discontinuity of care.  

The registry will characterise the prevalence, management and outcomes of adolescent cardiac patients attending the Western Cape Paediatric Cardiology service. Additionally, the registry will serve as the primary data source and platform for the delivery of an integrated transition programme. The first component of this system is a referral, booking and care-retention application to supplement and coordinate with the existing Department of Health referral system. The application will automate the referral process, flag high-risk patients, send booking reminders, monitor for missed appointments or inappropriate follow-up, and facilitate re-bookings. Second, a community-based co-design approach will be used to develop patient empowerment packages relevant to the needs of the CHD community. This application will leverage registry data and existing patient empowerment resources to deliver information individualised to a patient's specific diagnosis, care-plan, medication, and interventional history. 

List of collaborators

| | | | |
| --- | --- | --- | --- |
| | | | Role (Co-PI, Co-Investigator, Other Project Staff etc.)   |
| |  Paediatrics and Child Health, Division of Paediatric Cardiology  | | |
| |  Paediatrics and Child Health, Division of Paediatric Cardiology;  | | |
| | | | |
| |  Medicine, Division of Cardiology  | | |
| |  Medicine, Division of Cardiology  | | |
| |  Paediatrics and Child Health, Division of Paediatric Cardiology  | | |
| |  Paediatrics and Child Health, Division of Paediatric Cardiology  | | |

Pharmacogenomics Implementation ii South Africa: Genetic IDs for quality health 

Vision 2030 Grand Challenges pilot

PI: Prof Collet Dandara

Pharmacogenomics (PGx) is an important innovation in clinical medicine which allows determination of the right medication and the right dosage to be given to the right patient for effective therapeutic treatment based on genetic information. Clinical characteristics have long been used by clinicians to inform drug selection and dosing in clinical practice. However, variability in medication response which includes lack of efficacy and adverse events, is commonly among patients, resulting in poor quality of health. The effect of an individual's genomic profile on their drug response, pharmacogenomics, is thought to predict 20-95% of an individual's response depending on the drug. Thus, combining and individual's genetic information with clinical data is an intervention that is highly likely to lead to improvement of effectiveness and safety of medication. The benefit of using PGx to optimize medication therapy is recognized by major stakeholders in the healthcare system, however, its integration into routine clinical practice has been slow compared with the advancement in PGx knowledge and genomic technologies. 

Although several medical centres in the United States and Europe have implemented clinical PGx services in recent years, South Africa and the rest of Africa is lagging.  We are establishing a pharmacogenomics platform to catalyse research and translation, by bringing together basic scientists and medical health professionals. The platform aims to facilitate bench to bed-side applications of pharmacogenomics particularly its implementation. The pilot project will be used to bring together the research team and creation of a cohort of selected patients for piloting pharmacogenomics implementation at Groote Schuur Hospital. Lessons learnt from the pilot, will inform the roll out to rest of the Western Cape Province first and finally the rest of South Africa. Creating this cohort will be part of preparation for grand applications to international funders to support "Pharmacogenomics implementation in South Africa".  

The research team (list of collaborators): 

| | | | |
| --- | --- | --- | --- |
| | | | Role (Co-PI, Co-Investigator, Other Project Staff etc.)   |
| | |  Faculty of Health Sciences  | |
| | |  Faculty of Health Sciences  | |
| | |  Faculty of Health Sciences  | |
| | |  Faculty of Health Sciences  | |
| | |  Faculty of Health Sciences  | |
| | |  Faculty of Health Sciences  | |
| | |  Faculty of Health Sciences  |  Postdoctoral Research Fellow  |
| | |  Faculty of Health Sciences  | |

Reimagining African brain health: towards the eradication the neglected but fatal infections of the brain 

Vision 2030 Grand Challenges pilot

PI: Dr Rachael Dangarembizi 

Africa's development can only occur if we protect Africa's brain capital, which encompasses both brain health and brain skills. Surprisingly, there is a chronic underinvestment in brain health-related research. Neuroinfections, a major threat to African brain health remain neglected in research and policy. One of these neglected threats is cryptococcal meningitis; a fatal fungal infection of the brain that affects about 20% of people living with HIV/AIDS. Due to a high burden of HIV/AIDS, Sub-Saharan Africa carries the greatest burden of cryptococcal infections globally, and they claim the lives of up to 200 000 economically productive Africans annually. In Africa, cryptococcal infections are so poorly diagnosed and suboptimally managed that they kill about 70-100% of those infected. Despite this high fatality rate, we are still far from understanding the mechanisms of this disease or how we can develop effective drugs to manage it.

We propose to set up the first ever human brain culture system for studying the mechanisms underlying cryptococcal-related brain injury. Through a unique collaboration established between neuroscientists (Department of Human Biology) and neurosurgeons (Department of Neurosurgery) we will develop methods for culturing human brain tissue (waste tissue that otherwise is usually discarded after surgery). We will use this culture system, which is the closest representation of the human brain outside a living person, as a platform to study the mechanisms of neuroinfectious diseases. In this pilot project we will collaborate with mycologists (Department of Pathology and the National Health Laboratory Services (NHLS)) and imaging specialists (Electron Microscope Unit) to pilot the use of this brain culture system to investigate how Cryptococcus neoformans causes injury to the brain. Successfully setting up this model at UCT will open the possibility of studying the mechanisms underlying other bacterial, viral and parasitic neuroinfections, and will be catalytic for interdisciplinary brain research.  

Role (CO-PI, CO-Investigators collaborators)  

Engineering and the Built Environment 

 (discussing with the Electron Microscopy Unit)  

 (discussing with the Electron Microscopy Unit) 

 

Addressing heart disease acquired in childhood in Africa: a multidisciplinary life-course approach

Vision 2030 Grand Challenges pilot

Prof Liesl Zühlke

Rheumatic heart disease (RHD), the only cardiovascular disease of global impact that is completely preventable, disproportionately affects those in low and middle-income countries (LMICs), with the greatest burden in children, adolescents, and young adults. The antecedent is Streptococcal A (Strep A) infection, a top 10 infectious disease killer. Congenital heart disease (CHD) affects nearly 1% of births and is a major cause of childhood death and lifelong disability, with poor prognosis and outcomes in LMICs. Childhood acquired heart disease presents uniquely and requires specific investigations for tailored interventions and treatments. A key challenge faced by these diseases is the transitional periods between childhood, adolescence, and adulthood, with high rates of loss to follow-up and subsequent mortality and morbidity. 

We propose to examine three scientific questions relating to healthcare delivery and disease mechanisms which are directed towards providing better care and outcomes for childhood-onset heart disease in Africa: 1. How can we better understand the disease pathogenesis and susceptibility of RHD and its antecedents?  2. What is the contemporary epidemiology of CHD and the opportunities for quality improvement interventions, including surgery, to improve medium and long-term outcomes? 3. Can we identify (and reverse) early precursors of multi-morbid cardiac disease in children?

Our proposal extends from basic science research on the highest niveau to cutting edge in-depth clinical and quality improvement activities as well as innovative prognostic and computational modelling strategies underpinned by patient empowerment. We will leverage innovative technologies such as artificial intelligence and app-based health care and develop social and environmental change interventions to improve cardiac fitness and reduce cardiovascular risk. We will accelerate research capacity among childhood heart disease researchers in Africa by building a strong multi-disciplinary team of investigators in paediatric and adult cardiology, global and cardiothoracic surgery, mechanical engineering, cardiovascular genetics, architecture, linguistics, and public health.

Community-centred approaches to digital health (CoCAD) 

Vision 2030 Grand Challenges pilot

Assoc Prof Melissa Densmore

Maternal, child and adolescent health and well-being are critical to the future resilience and strength of our society and our communities; and it is readily apparent that digital technologies will play a significant role in our strategies to improve outcomes. However, in existing approaches, community relationships are neglected, in spite of their value in behaviour change and peer support. Likewise - parents, children, adolescents and members of their surrounding communities are rarely empowered to voice their own priorities and actively participate in the design of interventions intended to benefit them.

We argue for a co-design approach, to radically include communities and community members in the design of not only new approaches to digital health and well-being, but the design of research intended to innovate the new approaches. This program builds on prior international and interdisciplinary research identifying community-centred challenges and novel approaches for maternal and child health and brings together several ongoing projects across departments and faculties.  We seek innovative, sustainable, and community-centred strategies for leveraging digital to address issues of child, adolescent and parent-well-being, grounded in best practices from health sciences, humanities, sociology, and computing.

Our community centred-agenda will examine digital infrastructures to support our interventions, and we will conduct ground-breaking research on the ways in which artificial intelligence can be leveraged to create personalised and timely digital resources to support health and well-being, from chatbots, to internet of things (aka sensors, 4IR), to social media and offline solutions. At the same time we will critically examine our methods and framing, seeking to understand the nature of communities of interest and the ethical issues surrounding our approach, from epistemic burden to informed consent and beyond. 

Collaborators

 

 

 

 

 

 

 

 

 

 

 

 

 

 

 

 

 

 

Role (Co-PI, Co-Investigator, Other Project Staff etc.) 

 

 

 

 

 

 

 

 

 

 

 

 

 

 

 

 

Paediatrics and Child Health  

 

 

 

 

 

 

 

 

 

 

Perinatal Mental Health Project 

 

 

 

 

 

 

 

 

 

 

 

 

 

 

 

 

 

 

 

 

 

 

 

 

 

 

 

 

 

 

Paediatrics and Child Health 

 

 

 

 

 

 

 

 

 

 

 

 

 

 

Play at the intersections of the Art, Science, IKS  and Technology 

Vision 2030 Grand Challenges pilot

Dr George Mahashe

The project looks to build bridges for accessing or revitalising shared vocabularies between artists, scientist and other experts, all working with observation and simulation (or rendering) technologies for answering fundamental questions about our existence and viability in a complex natural environment. It proposes a series of 6-weeks to 3-month long residencies where artists and scientists share working space/infrastructure to bring their individual expertise around observation and simulation/rendering practices to bear on a mutual subject.   

The project is guided by two key interests: firstly a questions of  Water in its broadest sense, its mythologies, and the solutions brought on by technology and cultural taboos; Secondly, it is interested in Astronomy and its mega structures like the Meerkat built through impressive collaborations across disciplines. It is an interest in our climate over a long duration, as well as how we imagine it and our effect on it. The enquiry draws from my interest in Balobedu, whose water mythologies continue to fascinate me for their imaginative capacity, but also from my appreciation of stories establishing some rain making practices, like reading a star's colour and flicker as a process for forecasting drought and other ecological futures.  This fascination has drawn my attention to how I need to become a multidisciplinary researcher to comprehend what Khelobedu may offer our current thoughts on the climate issues. I am interested in how I achieve this multidisciplinary positionality.  

Similar projects include Artists in Labs and Arts at CERN who nurture conversation between artists and scientists through residencies in fundamental research infrastructures. These residencies emphasis conversation, but also a show and tell, allowing artists and scientists to work through the misconceptions we often have about each other's disciplines and research objects, leading to collaboration and shared resources.  

 

| | |
| --- | --- |
| | |
| |  South Africa Astronomical Observatory (SAAO)  |

African literary cities: hubs, maps and literary urban ecologies

Vision 2030 Grand Challenges pilot

PI: Dr Polo Moji

This project addresses the "absenting" of African literary cities –a complex engagement with cityness and literariness – in both globally authoritative cultural policy discourses such as UNESCO's Creative City network and the emerging scholarly field of Literary Urban Studies. We aim to take cognisance of epistemological interventions on African literary cities by Southern scholars (notably Mbembe, Nuttall & Simone 2008; Samuelson 2021), thereby expanding the current scope of Literary Urban Studies to include Southern Urbanism 

Located at the intersection of urban and literary studies, Literary Urban Studies bring "cityness" into conversation with literaturnost / "literariness", defined by Jakobson (1963) as metalinguistic traits that distinguish literary texts from other forms of discourse (genres, tropes etc). From the vantage point of urban studies, a focus on the literary is a welcome counterpoint in a field whose interdisciplinarity, especially in the African context, remains skewed towards built environment and engineering disciplines. Bar a few exceptions (Quayson 2014; Pieterse & Simone 2018), these fields do not make space for a nuanced engagement with how the African city is lived, experienced, navigated, and imagined in everyday forms. We therefore propose the notion of "literary urban ecologies" to make sense of the complex entanglements and (re)productions of cityness and literature that subvert the present dialect of the centre-periphery Literary Urban Studies.  

The project critically engages specific literatures and modes of cultural production that represent and/or shape contemporary African urban dynamics. It maps cultural infrastructures of cityness alongside infrastructures of the literary, reading these as constitutive of the literary urban ecologies of selected African cities. As sites of "literary encounter" between the materiality of literary forms (books, authors, readers, publishers) and urban spaces of the literariness, literary festivals on the continent provide an empirical inroad into the literary urban ecologies of African cities, alongside conventional literary analysis of city narratives. 

 

 

 

 

 

 

 

 

 

 

 

 

 

 

 

 

 

 

 

Role (Co-PI, Co-Investigator, Other Project Staff etc.)  

 

 

 

 

 

 

 

 

 

 

 

 

 

 

 

 

African Centre for Cities 

 

 

Faculty of Engineering & the Built Environment 

 

 

 

 

 

 

 Shari Daya ( to be finalised) 

 

 

Environmental and Geographical Science 

 

 

 

 

Neural correlates of face-brain dysmorphology in children with fetal alcohol spectrum disorders 

Vision 2030 Grand Challenges pilot

PI: Dr Tinashe Mutsvangwa

Fetal alcohol spectrum disorders (FASD) are a range of neurocognitive and behavioral impairments resulting from prenatal alcohol exposure. Typically, FASD facial features, a part of the criteria for a clinical diagnosis of Fetal alcohol syndrome (FAS), are assessed using traditional clinical measurements or 3D facial images captured using commercial cameras. While FASD-related face dysmorphia and brain alterations have been well characterized separately, little is known regarding associations between the syndromic face and the brain.

Recent improvements in statistical shape models (SSMs), robust tools for extracting and explaining shape between biological structures, have facilitated accurate brain segmentation and may enable facial shape analyses using Magnetic Resonance (MR) images. Therefore, we will apply a novel integration of SSM-based analyses and MR imaging to simultaneously assess brain and facial shape alterations in children with FASD. Several studies have, however, demonstrated gravity-related changes in facial soft tissue depending on whether a person is image in a vertical or horizontal position. Using MR images (where a person is lying) and 3D photographic images (where a person is seated or standing) acquired from healthy subjects, we will therefore initially examine the feasibility of SSM-based analysis of facial features using MRI images, and the impact of pose-induced changes. Detailed prospectively obtained information on maternal drinking during pregnancy is available for the children in our cohort, and all the children previously received MR imaging.

Thus, this study provides a unique opportunity to study face-brain dysmorphology in relation to degree of alcohol exposure in this well-characterized cohort of children. Moreover, this novel technique will be applied in our future study to estimate the neural correlations of adjunctive acupuncture therapy on face-brain morphology in stroke patients with central facial paralysis. In long term, we plan to create an atlas for using face dysmorphia to predict brain alterations. 

 

 

 

 

 

 

 

 

 

 

 

 

 

 

 

 

 

 

 

Role (Co-PI, Co-Investigator, Other Project Staff etc.)  

 

 

 

 

 

 

 

 

 

 

 

 

 

 

 

 

 

 

 

 

 

 

 

 

 

 

 

 

 

 

 

 

 

 

 

 

 

 

 

 

 

 

 

 

 

 

 

 

 

 

 

 

 

 

 

 

 

 

 

 

 

 

 

 

 

 

 

 

 

 

Addressing informality in mining –  Parallels between informal 'urban mining' and artisanal and small-scale mining 

Vision 2030 Grand Challenges pilot

Prof Jochen Petersen,  Prof Hanri Mostert, A/Prof Helen MacDonald, Dr Thandazile Moyo, Dr Bernard Kengni

Artisanal and Small-scale Mining (ASM) and electronic waste (e-waste) recycling are activities that are increasingly finding uptake as a means of providing livelihoods in the face of high unemployment in sub-Saharan Africa. While artisanal miners extract virgin minerals, informal e-waste recycling is a form of 'urban mining', whereby resources are reclaimed from end-of-life electronic/electrical equipment. 

The contribution of both sectors to livelihoods and the economy is recognised, with informal e-waste recyclers lauded for critically contributing to the development of a waste economy and ASM being a critical role player in the exploitation of marginal mineral deposits which cannot be economically exploited by large scale mining.  

Ease of access and lack of regulation are major drawcards to informal operators who do not have the necessary resources (capital, skills, access to infrastructure, etc) to set up formal businesses. Consequently, they tend to operate on the lower ends of their respective value chains with the associated challenges in terms of health and safety, inefficient resource utilisation, environmental degradation, criminality, etc. 

Therefore, the integration of both sectors into the formal economy could be a strategy to address some of these challenges, while maintaining economic inclusivity. This project explores the technical, socio-economic and legal nexus in understanding the economic potential of these two informal sectors, not only in South Africa but in Sub-Saharan Africa. The project recognises that the legislative environment needs to evolve to accommodate these growing sectors, and also acknowledges that technical innovation has traditionally served large-scale operations, leaving these small-scale sectors without access to modern technology. Socio-economic factors anchor the growth of this industry, and hence they will also be explored.  

The aspects explored in this project cut across all the SDGs with those most significantly affected being SDGs 1, 5, 8, 12 and 16.  

The development of a community-based, disability-inclusive disaster and first aid response system – a pilot project 

Vision 2030 Grand Challenges pilot

Judith McKenzie, Shaun Grech, Willem Stassen, Elzarie Theron

Climate change threatens the lives and livelihoods of all on the planet. The most vulnerable communities to climate change-related health emergencies are those in low-resource settings and the marginalised. People with disabilities are particularly vulnerable to climate change-related health emergencies, and during instances of extreme weather events or other disasters are often left without much support or consideration, exacerbating the consequences and marginalising these communities even further. One way to mitigate against this is to ensure that disaster preparedness plans are inclusive of a prominent disability voice, accounting for the needs of disabled persons. It is essential for humanity to be prepared for climate change-related health emergencies to minimise impact and ensure resilience. 

This project is a collaboration between emergency care, disaster medicine, disability studies, anthropology and climate science. 

This pilot project seeks to develop a community-based, disability inclusive disaster and first aid response system. First, we seek to understand the current reality as it relates to climate change-related health emergency risk and vulnerabilities, including access to emergency medical services. This will be established through an ethnographic observational study, a formal community-based disaster risk assessment, and a series of focus groups that seek to understand the community's thoughts and perceptions of risks. Hereafter, through participatory approaches, we seek to develop a bespoke, tailored, community-based early warning and response system in the event of climate change related-health emergencies. We also seek to empower communities to respond to emergency situations by adapting existing a community-based first aid responder programme to support early access to life-saving skills and interventions, that are for the community, by the community. Throughout this project, we will adopt the philosophy of nothing about us, without us, embedding a disability-inclusive voice throughout the life cycle of the project, thus ensuring that these vulnerable communities are catered for and uplifted. 

Co-designing a psycho-social programme to strenghten psychological well-being and alleviate youth poverty and unemployment  

Vision 2030 Grand Challenges pilot

Prof Ines Meyer; Dr Patti Silbert; Dr Zonke Zungu; Miss Tembeka Mzozoyana 

This pilot project aims to address complex challenges faced by the youth in our modern society. In addition to psycho-social issues such as substance abuse, violence and mental illness, the South African youth experiences unemployment and poverty. This is a prominent issue which requires, interdisciplinary, multi-stakeholder strategies to ensure youth recovery and resilience. UCT's Schools Improvement Initiative (SII) team have developed and implemented various psycho-social programmes aimed to improve teaching and learning in underserved communities Schools Improvement Initiative | SII | Schools Development Unit (uct.ac.za).

This pilot project seeks to complement this significant work through developing learners' 'personal initiative' mindset which would enable young people to actively participate in their communities and in the economy. Personal initiative training has been found more beneficial for micro-entrepreneurs' success in terms of profit than traditional business skills training. A greater personal initiative mindset has also been related to greater employment rates among youth not in education, employment or training, regardless of whether or not they had participated in a government employment programme (the Western Cape's Year Beyond programme). This project works on the premise that an earlier development of a personal initiative mindset would increase its impact on future employment prospects while also enabling higher school performance. To this end, existing personal initiative training materials need to be adapted to a younger age group.

As part of the pilot study, we adopt participatory action research methodologies to explore the needs of young people and use insights from other stakeholders such as businesses and non-profit organisations and assess changes in mindset, behaviour and school performance of learners involved in the SII programmes over the pilot period. The pilot study results serve to inform a possible randomized control trial at a national level. 

iNethi – Connecting the dots for communities

Vision 2030 Grand Challenges programme

Josiah Chavula

In order to broaden participation in the digital economy,  broadband needs to be made more affordable, and high value content and services in domains such as education and health need to be available without any data limits. Disaggregation across all layers of the network and economics stack leads to: (1)  lower cost access for end users; (2) more relevant community-created content and services; and (3) local ownership that provides much needed income for low-income communities.

We have created a platform called iNethi that provides the means for a community to have decentralised ownership in four critical areas: (1) Wireless infrastructure with user management; (2) local cloud services and content; (3) network monitoring and management; and (4) blockchain-based community-owned currencies. We seek to empower local champions in the community to own, monitor, and manage their own Internet infrastructure, services and content. We have already deployed a basic version of the iNethi platform in a township in South Africa and Kenya that is accessible through a locally owned and managed  WiFi network. We foresee a possibility of a federation of iNethi cloud servers across Africa synchronising with each other, allowing communities to share content, carry out trade with each other, or participate in real-time communication.

iNethi provides opportunities for innovation from multiple areas, including in Computer Science and Engineering, such as wireless networking, AI, software defined networking, cloud computing, human computer interfaces, and blockchain. We seek to build an iNethi testbed at UCT that will enable researchers to design and test innovative community-based solutions. Some potential application areas include: (1) Heritage and Identity - co-design of community-based tools to capture sites of local significance and to support knowledge generation and preservation; and (2) Gender Justice - exploring tools for making community-owned infrastructure gender-inclusive, and empowering communities to build gender-just tools. 

Understanding Africa's rapidly changing cities, their health and infrastructure environments viewed through a food lens - ACCHIEVE

Vision 2030 Grand Challenges programme

Dr Gareth Haysom

The future of the planet has been deemed urban. Africa, and parts of Asia, are at the forefront of the final phase of the second (and final) urbanization transition. In this context it is essential that the next wave of research focuses on the ground, addressing realities of urban life that is and that is to come – particularly the every-day life of Africa's urban residents, whose experience is shaped by multiple and intersectional conditions of vulnerability. The proposal emerges from the view that Africa's future will be urban. Development in African cities, through infrastructure, energy provision, spatial design, and governance, will determine the development trajectory of the entire Continent for generations to come. Food, and the urban food system, is a generative lens that exposes complex and yet, under theorized research areas and policy opportunities in African cities. This absence of inter and transdisciplinary thinking curtails policy and development responses, locking responses into single track systems that re-enforce governance, policy, and theoretical, silos. Africa's urban transition will remain unjust, elite-centred, and ecologically harmful unless a very different approach to city development is adopted. The African Centre for Cities Urban Food Cluster team has been active in highlighting these gaps, actively engaging in theory and governance processes. However, it is essential that a wider group of actors are drawn in to address these questions that present Africa with one of its grandest challenges – how will African cities be fed, and how can these cities, and the rest of Africa, be well fed? Through and innovative and collaborative research and engagement process, between key disciplines, students and governance actors across the Continent, this plan will animate, propose solutions and through the process, seed a cohort of future inter and trans -disciplinary urban African researchers and governance actors enabling a just urban transition.  
Search for other researchers on the UCT Research Portal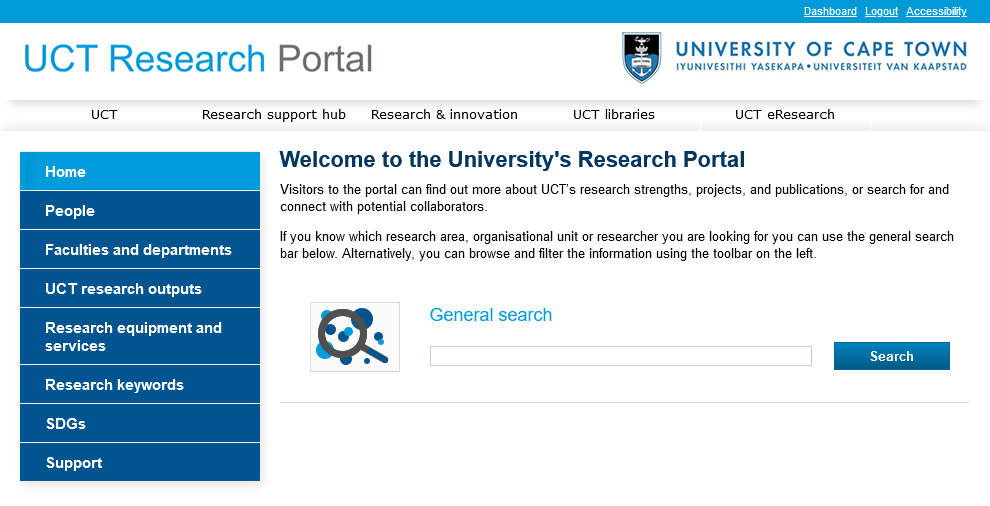 On the UCT Research Portal you can search for and connect with potential collaborators. You can also create or update your own UCT researcher profile on the linked eRA system for others to find you as potential collaborator. For guidance on managing your profile, please access the instructions here or log a call with the Research Systems Support team.